Ducted Air Conditioning Services Brisbane
As true specialists in ducted heating and cooling systems in the Brisbane area, Quality Air is able to provide you with an unbiased opinion on the best cooling and heating solution for your home or office. By working with renowned air conditioner manufacturers, such as Fujitsu, LG, Panasonic, Actron Air, Mitsubishi and Daikin, we can design a system to suit your home or office within your budget parameters. Only working with trusted companies allows us to offer you full 5-year warranties on our installation and air conditioning equipment.
What is ducted air conditioning?
When cooling or heating your home, ducted air conditioning gives you the control over which rooms and zones to be used. A maximum of 10 zones can be used to circulate air throughout your home. The two main components of a ducted air conditioning system are the outdoor condenser unit and the indoor fan coil unit pushes air throughout the house. These units are connected by two refrigerant lines.
How an air conditioner works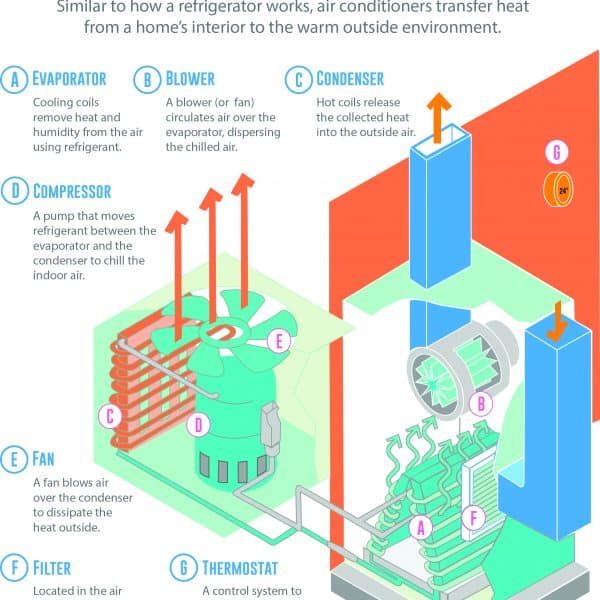 The advantages of ducted heating and cooling
Cool your home in the Summer and heat it in the winter
One system for the entire house or office
Great for maintaining an even temperature
More energy efficient than traditional heating and cooling methods
Ducted air conditioning gives us the ability to control the home or office climate through the use of adjusting temperature, air quality and airflow in warm or cold conditions. Ducted air conditioning units are quiet and very discreet as they are generally located behind walls or in ceilings. This is an aesthetically appealing solution compared to split systems or portable options. Ducted air conditioning is the best option for cooling an entire house making for an ideal solution for families or offices.
How much does ducted air conditioning cost in Brisbane?
As homes and businesses vary in size, layouts, and overall structure, it is difficult to determine a final cost for a ducted air conditioning system. Units will need to be installed in the layout of your own home to meet your maximum efficiency. The typical installation cost of an indoor unit will vary depending on the following:
The number of air vents you will need

Where the ductwork will be located for the installation

The time it will take to install

The total size of your home
At Quality Air, we give the following estimates depending on the size of your home:
Small home: $7,500 to $9,900

Medium home: $9,900 to $11,900

Large home: $11,900+
These prices are just an estimate and will vary depending on the type of unit, the ductwork, and the number of air vents required. Contact us directly to organise a quote.
Are ducted air conditioning systems expensive to maintain?
When working with Quality Air, we offer you a 10-year warranty on our workmanship and your first service (after one year) is free. We will also give you clear instructions on how to use your new system to minimize any problems in the future.
The most common faults of a ducted air conditioner are leaking ducts, thermostat problems, fan problems, dirty or frozen coils, low refrigerant, or clogged drains. It is a good practice to have your air conditioning checked at least once a year, generally in the spring.
Is ducted air conditioning cheaper to run?
While a ducted air conditioning system is a larger upfront cost it is a solution that can service your whole home and is more energy-efficient long term. While a ducted system may be more expensive to run than a split system it is essentially doing the job of several split system units. In terms of cooling or heating an entire house, installing a ducted air con is an investment that will pay off over time.
When is ducted air conditioning the right option?
Ducted air conditioning might be the answer if you're considering installing multiple split system units. Reverse cycle technology also makes ducted air cons a total solution for cooling in summer and heating in winter. They are a popular consideration to make when planning a new build or if you are in the market to improve the comfort of an existing home to survive those warm Queensland summers.