Ducted Air Conditioning Services Brisbane
As true specialists in ducted heating and cooling systems in the Brisbane area, Quality Air is able to provide you with an unbiased opinion on the best cooling and heating solution for your home or office. By working with renowned air conditioner manufacturers, such as Fujitsu, LG, Panasonic, Actron Air, Mitsubishi and Daikin, we can design a system to suit your home or office within your budget parameters. Only working with trusted companies allows us to offer you full 5-year warranties on our installation and air conditioning equipment.
What is ducted air conditioning?
When cooling or heating your home, ducted air conditioning gives you the control over which rooms and zones to be used. A maximum of 10 zones can be used to circulate air throughout your home. The two main components of a ducted air conditioning system are the outdoor condenser unit and the indoor fan coil unit pushes air throughout the house. These units are connected by two refrigerant lines.
How an air conditioner works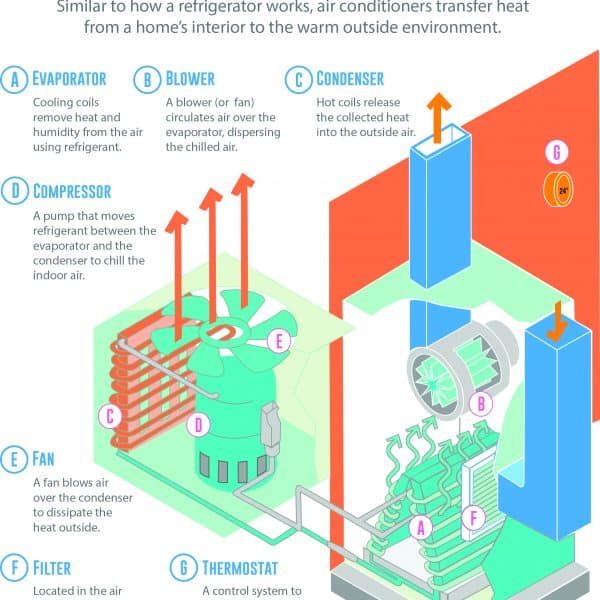 Why ducted heating and cooling?
Cool or your home
One system for the entire house or office
More energy efficient than traditional heating and cooling methods
Ducted air conditioning gives us the ability to control the home or office climate through the use of adjusting temperature, air quality and airflow in warm or cold conditions.